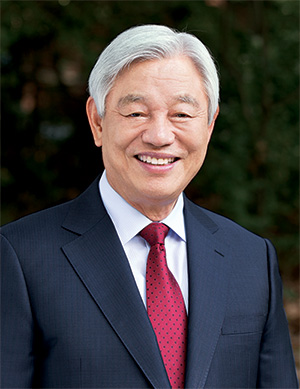 "Before I was born again, I failed at everything, but after receiving the forgiveness of sins and devoting my life to the Gospel, God's only provided me with precious opportunities to preach the good news of His salvation." – Pastor Ock Soo Park
Pastor Ock Soo Park is the founder of the Good News Mission, an independent Baptist mission organization dedicated to spreading the gospel of salvation to the ends of the earth.
Since Pastor Park received the gift of eternal salvation and forgiveness of sin in his heart in 1962, God has led him to live for the Gospel for the past 49 years. He went on to found the Good News Mission, and has done the precious work of establishing churches and training missionaries for many years. Now there are over 350 different Good News Mission churches around the world. Each church also shares the mission and dream of spreading the Gospel to every person.
Pastor Park's publication ministry continues to reach thousands people all over the world through life-changing sermon books such as, The Secret of Forgiveness of Sin and Being Born Again, Out From Despair, and Repentance and Faith. There is also, the "Good News Weekly", which is steadily becoming one of the biggest Christian newspapers in Korea, and a monthly magazine called, "The Good News" currently in distribution internationally.
Pastor Park's broadcast sermons cover the international airwaves in the series titled, "Lectures on Genesis," and his written works had run in both the New York Times and the Los Angeles Times.
In 2001, Pastor Park founded the International Youth Fellowship (IYF), a non-profit, international organization that focuses on youth development and the cultivation of leadership through spiritual life. IYF is now one of the largest and most innovative Christian youth organizations in the world. With programs such as the IYF World Camp, the Good News Corps, and IYF Medical Volunteer program, IYF is currently setting new standards in the mission fields of the world and changing today's youth into ambassadors of hope.
In addition to the founding of the Mahanaim School of Theology, Pastor Park is currently training missionaries and workers of the Gospel of the next generation to preach the Gospel around the globe and to live a true spiritual life of faith. Currently there are Good News Mission missionaries and Good News Corps volunteers in over 60 countries around the world. God has led Pastor Park to truly live his entire life for the furtherance of the Gospel and will of God.
Pastor Ock Soo Park also currently serves as the senior pastor of the Good News Gangnam Church in the Republic of Korea.
Profile
Founder of the Good News Mission Church
Author of 38 books, including the best-selling titles, "Who Are You Who Is Dragging Me?" and "Secret of Forgiveness of Sins and Being Born Again"
Author of a featured sermon series in the New York Times and Los Angeles Times
Founder of Mahanaim, a Christian post-secondary school in NY
Religious advisor to national presidents
Founder of International Youth Fellowship (IYF)
Host of the annual Ministers of Youth World Forum
Founder of Good News Corps
Founder of the Lincoln House School
Founder of Good News Broadcasting System (GBS)
Honorary Doctor of Philosophy, National University of Mongolia
"New Leader of Churches" award, The Daily Sports
2005 New Korean Award, Hankook Ilbo
"2005 Great Korean Grand Prize" award from The Korea Times
Official TI&E Speaker for the Korean National Army